27L Ultimate Safe® Biometric Home Safe
---
Ultimate Safe 30BIOM Biometric Home Safe
Features
MAXIMUM SECURITY - when you choose an Ultimate Safe, you can be sure that you are purchasing an item that has been designed with the highest security in mind. This biometric home safe features our unique Triple Blade Lock with three 0.8" thick dead bolts. The body of the safe is reinforced and features an extended structural frame with dedicated insertion slots for the locking bolts which protects against pry bar brute force attack.
DEPENDABLE AUTHENTICATION - the semiconductor live fingerprint identification module ensures quick and accurate authentication for access. Just place your finger on the reader and you are instantly granted access to your handgun or valuables. The integrated indicator light provides status information via three color codes: green, yellow, and red. Scan and store up to 50 fingerprints for multiple persons.
BACKUP ACCESS - your safe comes with two backup access methods, a digital and a mechanical one. You can set two access PIN codes or use the keypad to open the safe. You also have a physical emergency override key (two keys supplied), which goes into a hidden key hole on the front.
UPSCALE FINISHES AND FEATURES - this safe is as beautiful on the inside, as it is on the outside. On the outside you will find a special effect textured leather powder coating, which is incredibly strong and purposeful (scratch resistant). The inside is fully lined with soft material to be gentle on your valuables and gives a luxurious feel. An adjustable removable shelf and an LED light that comes on automatically when the safe is opened.
EASY INSTALLATION - your biometric home safe can be fixed to the wall or floor in a secured location for better protection. Comes with 4 pre-drilled holes in the back and base, along with fixing bolts and instructions. A clear and easy-to-understand manual. External dimensions:

30cm (H) * 38cm (W) * 30cm (D).
Detailed Information
The Ultimate Safe 30BIOM biometric home safe is designed to offer the ultimate protection for your valuables. Our clients trust these safes to store handguns, ammunition, jewelry, identity and other sensitive documents, money, bank cards, electronic devices, RSA authenticator key fobs, keys, and other items.
Ultimate Safe® Biometric home safes offer you a high level of security and protect your valuables from theft, while at the same time we've ensured that accessing them is a seamless experience.
The 30BIOM comes with an advanced biometric sensor that is accurate and very fast. The fingerprint scanner works instantaneously to provide quick and reliable access to the contents of the safe.
In order to ensure that you will have access to your valuables under any circumstances, the safe also has a digital keypad with a programmable access code and hardware manual emergency override keys (the safe comes with two keys).
Multiple people can be granted access via their fingerprints. The 30BIOM can store up to 50 different fingerprints. This means that not only can you grant access to multiple persons, but you can also set up access for yourself using different fingers.
There is a time lock feature, which secures the safe after 3 incorrect entries and stops open attempts for 5 minutes.
Secure and reliable authentication can deter most unauthorized entry attempts, but there can be situations where brute force is applied. It is precisely in these situations where a good safe stands out. The Ultimate Safe 30BIOM is designed to withstand sustained assault - we have conducted extensive tests which included brute force entry attempts with pry bars and chisels, where the safe passed with flying colors due to its sturdy construction and smart design:
A critical component of any safe is its lock. This is why Ultimate Safe biometric home safes are equipped with a new patented motorized deadbolt locking mechanism with 3 solid steel 0.8" bolts - our patented Triple Blade Lock®
A common failure point for cheaper safes is their weak frame, which bends under an applied force. The body of the 30BIOM is made from premium steel with 0.080" thickness and the frame has been designed to be stiffer and features integrated insertion slots for the locking pins, making it virtually impossible to have any sort of leverage or be able to force your way in.
The 30BIOM has a premium look and feel both inside and out. The precision laser cutting manufacturing method used has resulted in a fit and finish that is on par with products from the higher price ranges. Finished in a beautiful leather effect powder coating, this biometric safe has a unique look that will last for many years due to its high scratch resistance. A sleek modern round silver facia and branding complements the upscale look that is befitting of any room or interior setting.
Gentle on valuables, the interior is fully lined with a soft plush material to prevent damage to contents. There is also an internal LED light that illuminates when the door is opened and a removable and adjustable shelf.
This biometric home safe can be fixed to the wall or floor in a secured location for better protection. It has 4 pre-drilled holes in the back and base for securing it onto the wall or floor. Fixing bolts are included.
Supplied with 2 override keys and 4-AA batteries included.
The weight of your Ultimate Safe® Security safe is 12 Kg. The overall approximate dimensions are 30cm (H) * 38cm (W) * 30cm (D). Internal volume: 27L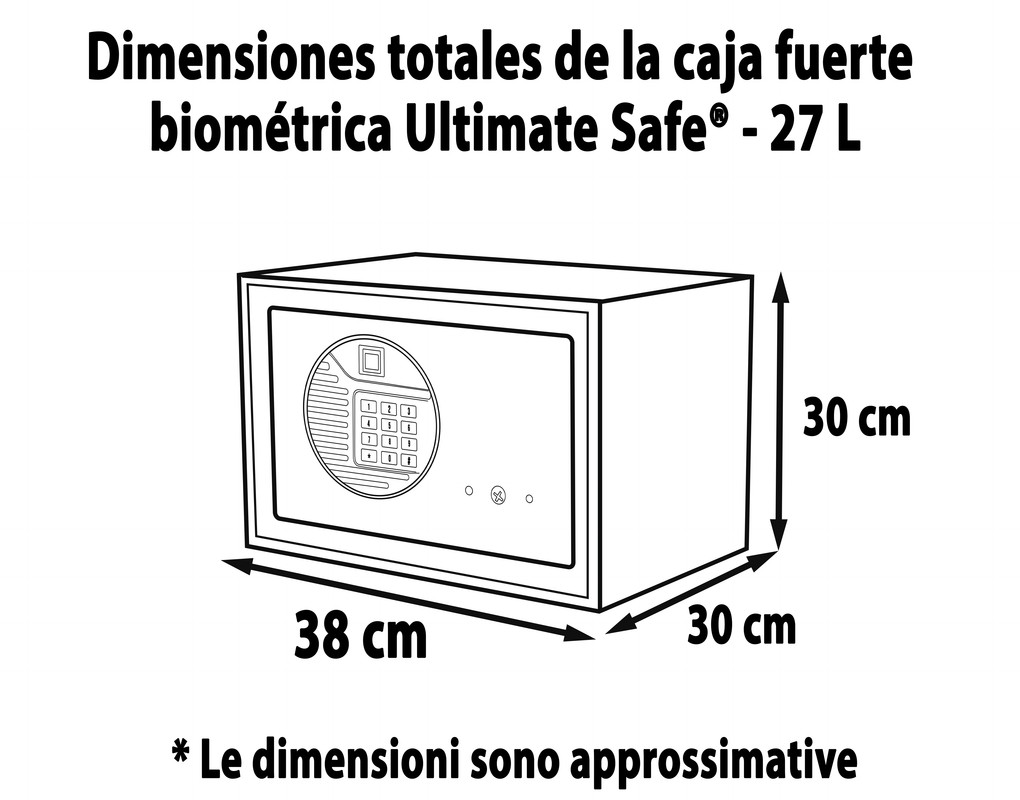 Buy now with complete confidence.